Dear Friends,
| | | | |
| --- | --- | --- | --- |
| Welcome to academic year 2014-15! We have much to celebrate and eagerly anticipate this year. We kicked-off the fall quarter with a wonderful "Flashback" Beginning-of-the-Year party on Oct 10 organized by the graduate students. Click on the photos at right to see some of our graduate students as children, and some photographs from the department in the past. | | | |
As we bid fond farewell to some of our long-serving faculty--Prof. Fikert Yegul retired in June and Prof. Ulrich Keller retires this quarter--we look forward to enriching the program with a new generation of scholars.  Eight exceptionally talented new graduate students joined us this year, and we have two tenure-track searches in process. We expect to fill two positions, Architecture, Urbanism and Visual Culture of the Ancient World, and Art and Architecture of the Medieval World, beginning July 1, 2015. 
This year's departmental lecture series, Materiality, was inaugurated with a talk by Prof. Amy Ogata, University of Southern California on Oct 14, followed by a lecture by Prof. Jennifer Doyle, UC Riverside, on Nov 18. Please see the lecture series poster and departmental website for information on Winter and Spring lectures.
In Winter quarter I look forward to hosting the UCSB Reception at the College Art Association Annual Meeting in New York on Thu Feb 12.  In Spring quarter we will host the 40th Art History Graduate Student Symposium on April 24, 2015 (see details below). I am very proud of this landmark achievement by our graduate students.
Coming up shortly, we will celebrate the end of the fall quarter at the Holiday Reception on Fri Dec 10, 3pm in Rm 1332 Arts. Please RSVP Barbara Burkhart at bburkhart@hfa.ucsb.edu.
As this newsletter was about to be circulated, I received news that Professor Emeritus Larry Ayres passed away Fri Nov 14 (details in the News section).  My condolences to his family, friends, students and colleagues.
Sincerely,
Swati
Swati Chattopadhyay
Professor and Chair
Editor, Journal of the Society of Architectural Historians and JSAH Online

The department mourns the loss of Professor Emeritus Larry M. Ayres who passed away last Fri Nov 14 at the age of 75. An expert in Romanesque and Gothic art, Prof. Ayres joined the department in 1970 after receiving his PhD from Harvard University that same year. His honors included fellowships from the American Academy in Rome, the Alexander von Humboldt Stiftung and the National Endowment for the Humanities. Prof. Ayres was a moving force in the department and was instrumental in shaping both undergraduate and graduate programs, particularly through the growth of the lower division western survey: the 6A, B, C series.  Three decades of teaching, four dozen MA and PhD committees later Prof. Ayres retired from UCSB in 2003.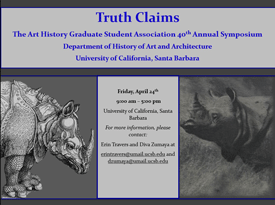 The Art History Graduate Student Association's 40th Annual Symposium, Truth Claims, will be held on Friday, April 24, 2015. Paper proposals are invited from all disciplines that address issues of truth claims or contestations through visual materials, including two-dimensional arts, new media, performance, and architecture. The conference poses a series of questions about how and why objects, spaces, and images make claims to truth: What kinds of truths are explored through visual materials? What role does media play in the claims made by a work? What are the implications of the context in which an object is viewed or displayed? To what is truth made relative?
Click here for additional information about the 2015 symposium and the call for papers.
Click here for a photo of 39th Annual Art History Graduate Symposium co-chairs Alisa Alexander and Laura Dizerega with keynote speaker Prof. Susan Preston Blier, Allen Whitehill Clowes Professor of Fine Arts and Professor of African and African American Studies at Harvard University. Click here for a photo of Prof. Laurie Monahan, respondent to the lecture, with Prof. Blier.

2014-15 Department Lecture Series: "Materiality"
Forthcoming Lectures:

Thu Mar 19: Rebecca Messbarger (Washington University in St. Louis), "Revision and Reform of the Body in Peter Leopold's New Florence (1765-1790)"
Tue Apr 7: Dr. Youn-Mi Kim (Yale University), "Visualizing the Invisible: Materiality in Liao Pagodas, 907-1125"
Cosponsored by the Department of East Asian Languages and Cultural Studies and the Department of Religious Studies
Thu May 14: Dr. Fabio Barry (Stanford University), "Intangible and Unspeakable Hagia Sophia"

All lectures will take place in Arts 1332 . Click poster image at right for full schedule

Professor Emeritus Herbert Cole published Igbo as part of the Visions of Africa series (5 Continents Press, 2013)

Prof. Jeanette Peterson is completing the second and revised edition of her 1993 book on the sixteenth-century murals of Malinalco; this expanded edition is in Spanish and will be published in Mexico as
El jardín del paraíso en los murales del convento de Malinalco:
Utopía e imperio en el México del siglo XVI.
Prof. Jeanette Peterson is co-organizing with Kevin Terraciano (History, UCLA) a conference, titled, Visual and Textual Dialogues in New Spain, on April 17 and 18, 2015, at UCLA and at the Getty Research Institute. The conference will examine the "three texts" in the Florentine Codex (1577-79): Spanish, Nahuatl and the some 1800 images. A diverse group of scholars will consider how the many Nahua contributors and their Franciscan interpreter, fray Bernardino de Sahagún, used alphabetic and visual texts to represent themselves and their cultures intended for mixed audiences in Mexico and Europe. The Florentine Codex is the product of an intercultural dialogue and the epistemological implications of this process will be the primary investigative aim of this conference. Speakers from the US include Elizabeth Boone (Tulane), Alessandra Russo (Columbia), Molly Bassett (Georgia State), Barbara Mundy (Fordham), Diana Magaloni-Kerpel (LACMA), Eloise Quinones-Keber (Graduate Center, CUNY), and four others. Internationally two speakers are from Mexico: Pablo Escalante Gonzalbo and Guilhem Olivier (both from UNAM) and one from Florence, Italy: Ida Giovanna Rao from the Laurentiana Library, where the Florentine Codex resides.

Prof. Nuha Khoury presented a keynote, "Art in Lebanon: Bodies in Transition / El arte en Lìbano, cuerpos en transicion" at Semana Arabe, CIDE, Mexico City, held in collaboration with Collegio di Mexico in Nov.

Prof. Bruce Robertson published an essay, "Marsden Hartley and Gay Berlin," in the catalogue, Marsden Hartley: Die Deuschen Bilder 1913-1915, for an exhibition at the Nationalgalerie, Berlin, and the Los Angeles County Museum of Art.

Prof. Swati Chattopadhyay presented a lecture at the Center for Studies in Social Sciences in Calcutta, titled "Of Small Spaces Forgotten" in July.  Two of her articles are scheduled to be published this Fall: "The Politics of Popular Art in Twentieth-century India" in Randy Martin (ed), Companion to Art and Politics (Routledge, 2014), and "Cities of Power and Protest: Spatial Legibility and the Colonial State in Early Twentieth-century India," for a special issue of RJUS, International Journal of Urban Sciences (Fall 2014).

Prof. Sylvester Ogbechie's essay, "Transcultural Interpretation and the Production of Alterity: Photography, Materiality and Mediation in the Making of "African Art'" was published in Art History and Fetishism Abroad: Global Shiftings in Media and Methods. Bielefeld: Transcript Verlag, 2014: 113-128. (http://cup.columbia.edu/book/978-3-8376-2411-3/art-history-and-fetishism-abroad).

Prof. Ogbechie gave a lecture, "The Roots and Routes of Transnational Black Art: Ben Enwonwu's Ebony Quest" at the Volkswagen Foundation's Migrating The Black Body Symposium, Hanover, Germany, Sep 8-13, 2014.  He has been invited to present a lecture, "The Postcolonial African Museum in the Age of Cultural Informatics" at the III Seminar on Museum Information Services, Sao Paolo, Brazil, Nov 26-27, 2014.

Prof. Jenni Sorkin was an invited participant at the Yale University Art Gallery Ceramic Study Day, where she gave a paper titled "Ceramics and the Problem of Media-Specificity" in Oct. She was also a visiting critic at University of Nevada, Las Vegas in the Art and Art History Department in Nov.

Prof. Peter Sturman's article "The Poetic Ideas Scroll Attributed to Mi Youren and Sima Huai" has been published in the inaugural issue of Zhejiang University Journal of Art and Archaeology (November, 2014). His interview on the contemporary Taiwanese sculptor Li Chen appeared in Chineseness, a special series devoted to four contemporary artists produced by the Discovery Channel. Prof. Sturman's article on Li, titled "Sculptor as Creator Li Chen and his Soul Guardians," recently appeared in the artist's latest catalogue, which highlights his monumental sculpture at the Place Vendome in Paris.

Prof. Sturman presented "Projecting Mortality: Views from Shen Zhou's Orchard" at Chinese Landscapes: Explorations in Literature, Poetry, Film, and the Visual Arts, an international conference held at Stanford University in May 2014. In Aug, Prof. Sturman continued his participation in a workshop on the Ming dynasty multi-faceted talent Xu Wei (1521–1593) at Yale University, titled Xu Wei and the Cultural Frontiers of Sixteenth-Century China: An Integrated History. This was the second of a multi-year project that brings together six specialists of literature, history, psychology, music, theatre, painting, and calligraphy to work on an experimental collaborative book devoted to the early-modern polymath. He also participated in the International Conference on Song Painting at Zhejiang University (Oct 31-Nov 1, 2014), of which he was the primary organizer. The conference proved to be wildly popular: originally an audience of 75-80 was anticipated but over 1000 tried to register. In the end, the conference was moved to a large hall capable of seating 400 and the proceedings were provided with a live internet feed for an audience that stretched to Beijing and beyond. The conference brought together specialists of Chinese painting of the 10th-13th centuries from China, the United States, Taiwan, and Japan.

Prof. Sturman and Prof. Bruce Robertson conducted a seminar on Modernism at the China Academy of Art in Hangzhou. The students selected for the seminar, representing a number of the top institutions from all over China, were focused primarily on aspects of American Modernism. Professor Sturman helped provide a global perspective with lectures on modernist art by the Chinese diaspora and recent trends in academic studies devoted to modern and contemporary Chinese art.

Maeve Coudrelle (BA 2011) published an essay in Tyler School of Arts Journal, Semi-colon, "A Dynamic Specialty: The Productive Fluidity of the Contemporary," 10-11

George Flaherty, University of Texas, Austin, (PhD, 2011), published an article, "Responsive Eyes: Urban Logistics and Kinetic Environments for the 1968 Mexico City Olympic Games," in the Journal of the Society of Architectural Historians, vol 73, no 3 (Sep 2014), 372-397.

An exhibition, "Bollywood 101," curated by Shalini Kakar (PhD, 2010), opened in Sep. She also organized a symposium and gallery talk in conjunction with the exhibition on Thu Oct 30. The symposium comprised three lectures: Sudhir Mahadevan, University of Washington, Seattle, "The topical image: some observations on the print-film-photography interface in South Asian visual culture";  Preminda Jacob, University of Maryland Baltimore County, "Cine Signs: The Evolving Art of Film Advertisements in Tamil Nadu"; Sangita Shresthova, USC, "Beyond Nostalgia and Orientalism? The Shifting Meanings of Bollywood Dance in Performance." Prof. Bishnupriya Ghosh (English, UCSB) and Prof. Bhaskar Sarkar (Film and Media Studies, UCSB) served as discussants and Prof. Swati Chattopadhyay served as the moderator.
Dear Alumni: please send your news of appointments, awards and other achievements to swati at arthistory.ucsb.edu or spafford at hfa.ucsb.edu.